Important Update: Due to COVID -19
Due to COVID-19, PCTA is now offering training through Zoom. This will allow you to stay home and still get the training you need. The live firearm shoot is still required but will be scheduled individually for your protection. After you register or pay online, you will be sent a link for the class. I look forward to working with you. Thank you.
Wash hands. Stay home. Stay safe.
God Bless,
Jan
PCTA
Firearms Training at its Best!
Price's Cowtown Training Academy is a professional firearms training organization committed to providing individuals with the necessary skills for defending against a lethal threat.  That you will be confident in your ability and have the essential mindset to handle such a situation.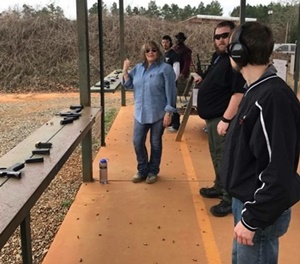 As more departments and agencies are faced with shrinking budgets, it becomes imperative that each allocate those monies available in the most efficient manner possible. Each department head or purchasing supervisor must take great care to insure that every service or item of equipment that is received is the best value for the tax dollars spent.
Our team of professional instructors can develop a program for you and bring that program to your facility. This saves on travel, lodging and overtime coverage expense while keeping your officers available in the unlikely event that they need to be called back into service.
Please see Calendar for Courses currently available.
Texas Concealed Handgun Training
Tactical Concealed Handgun Training (Basic, Intermediate, and Advanced)
Level III Training for Texas Commissioned Security Officers
Level IV Training for Texas Certified Personal Protection Officers
ASP Certified Baton Training classes
ASP Certified Tactical Handcuffing Training
NRA Basic Handgun Certified Training Course
Texas Parks and Wildlife Hunters Safety Training
Private Lessons
All classes are taught by Texas Certified Police Instructors
Contact Jan Price for additional information about our services:
Send Email to jan@pcta-firearms.com or call 817 360-6707
We will also come to your location to train groups of 10 or more.